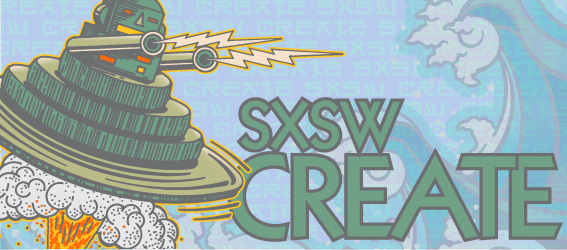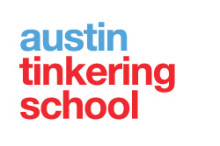 The Austin Mini Maker Faire will be at this year's SXSW Create with tinkering each day with the Austin Tinkering School's NERDY DERBY,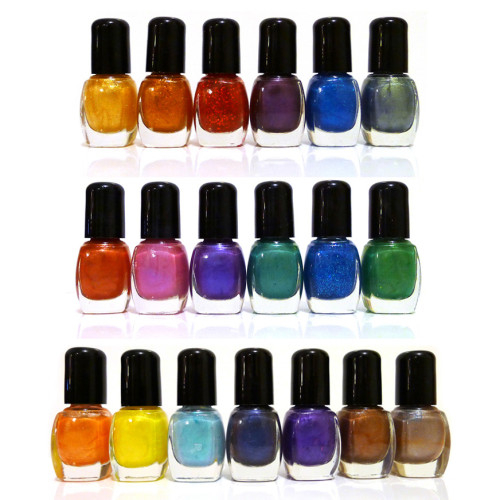 nail polish making with feto soap + special guests each day:
Friday, March 7: 11:00am to 6:00pm Thomas Edison/Daniel G. Benes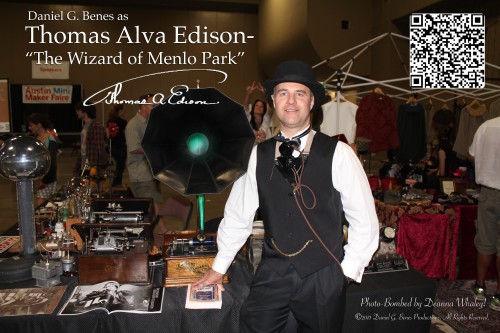 Live demonstrations at the Austin Mini Maker Faire booth at SXSW will include a one-of-a-kind miniature Edison Direct Current (D.C.) Electrical Generation & Distribution System, with working miniature Steam Engine and Dynamo, a 120 year-old hand-wound Electric Motor, and several Edison Bulbs (including a 1.5 kilowatt monster!). Also on hand will be a working antique Quadraplex Telegraph demonstration system, and a 1920's electric Edison Business Dictation machine. Plus, take a look inside at the gear-motor of an original 1905 Thomas A. Edison "Standard Model" Cylinder Phonograph while it plays one of several 100 year-old cylinder records! There are enough gears inside to make a Steampunk blush!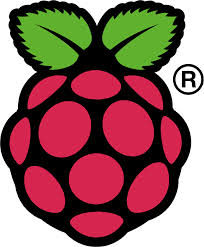 Saturday, March 8: 11:00am to 6:00pm The Robot Group / Rasberry Pi, Motorola lapdock, and a Makergear m2 3d printerWireless 3D printing
Sunday, March 9: 11:00am to 6:00pm  The Robot Group
Location is City Terrace of the Long Center (701 W. Riverside)
Event is FREE and open to the public
Doing creative and revolutionary things with new technologies embodies the spirit of the SXSW Interactive Festival, and nowhere is this more evident than the diverse mix of activities at SXSW Create. From 3D printing to drones to biohacking and much more, this community event showcases the disruptive solutions that are shaping our future.
This FREE and open-to-the-public event kicks off at 11:00 am on Friday, March 7 and runs through 6:00 pm on Sunday, March 9. Catch an Interactive or Film Shuttle to The Long Center for the Performing Arts to experience all the mind-expanding and hands-on fun.
Some of what you'll see at Create:

MAKE: jumpstarted a worldwide Maker Movement. Devoted entirely to Do-It-Yourself (DIY) technology projects, MAKE unites, inspires, informs, and entertains a growing community of individuals who undertake innovative projects and ideas.
Epilog Laser – Laser Engraving, Cutting & Marking Systems
Whether you're cutting pieces/parts for your latest prototype or engraving your logo on promo gifts, Epilog Laser cutting/marking systems can take your creative designs to the next level.
Flexbot: A Customizable, Open Source Nanocopter
Come check out the Flexbot, a customizable, smartphone-controlled, open source nancopter! We will also be displaying our unique automated 3D printing system for manufacturing the copters.
Inventables
Inventables is the hardware store for designers. We specialize in the tools and materials to make your ideas a reality.
Nokia + Bike Hugger
In the Nokia + Bike Hugger space find giveaways and the latest Lumia devices that make amazing photos & videos on and off the bike. Lumia lets you see more at SXSW.
SparkFun e-Textiles Workshop and Project Showcase
Come join SparkFun Electronics for an e-textiles workshop full of LED-fun and conductive-thread dreams! We'll have a fleet of e-textile instructors who can help you make simple circuit with LilyPad LEDs, conductive thread and sharpies on your own fabric pin.
Stage Two @ SXSW
Stage Two at SXSW is for attendees serious about being involved in the consumer electronics industry. Come by the booth to get demos from hardware startups sharing their stories about going from tinkerer to scale! Part educational, part showcase, all fun!
Texas Instruments
Texas Instruments Incorporated (TI) is a global semiconductor design and manufacturing company that develops analog ICs and embedded processors. By employing the world's brightest minds, TI creates innovations that shape the future of technology. TI is helping more than 100,000 customers transform the future, today.
Other Community Participants
3DaGoGo, 10bitworks, ATX Hackerspace Collective, Anand Chamarthy, Austin Mini Maker Faire, Left Field Labs, MakerKids, Peep, Puzzle Hunt, re:3d, Soil IQ, SpraTX, Supermechanical, Vandegrift H.S. ViperBots & FIRST Tech Challenge Robotics, the Waller Creek Conservancy and many more.
Special Events at SXSW Create
The Industry Attic at West Pincer Terrace
Head upstairs for a special track of programming with maker-focused Meet Ups, Show and Tells, and much more:
Sunday, March 9
Stage Two at SXSW
2:00 pm – 6:00 pm
This special event from Stage Two features hardware startups sharing 5-minute stories about going from tinkerer to scale. Beer, tacos, and live music keeps things crispy! Visit stagetwo.com/sxsw or see this special event in the SXSW Schedule
Sunday Special Community Event
Bike Hugger Mobile Social with Nokia and Tern
12:30 pm on The City Terrace at the Long Center
Be at the intersection of bikes and maker culture when Bike Hugger, Nokia and Tern hit the streets for an informal and fun community bike ride around Austin. Reception to follow with special guests Rapha, Pei Ketron and Jeremy Dunn. For more, visit bikehugger.com/mobile-socials or see this special event in the SXSW Schedule.
All subject to change. Check http://sxsw.com/create for more info!