Science in the Movies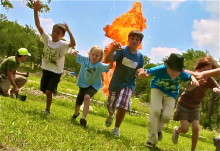 A live performance revealing the exciting ways science is used to create movie stunts and special effects!
Creator: Steve Wolf
As a stunt and special effects coordinator, Steve Wolf uses science every day to solve the challenges of creating exciting movie effects.  One day, while watching the news, he learned that the US was ranked 23rd in school science knowledge.  He was perplexed that the nation that put a man on the moon was failing basic science, and that kids who could tell you every line from their favorite movie couldn't remember a thing they had learned in school.  He uses the entertainment industry's ability to capture and hold kids attention to help them master the science they will need in order to solve tomorrow's challenges.
Steve has created effects for thousands of movies and TV shows, including "America's Most Wanted", "Cast Away", "Law and Order", and "Colombiana".  He is the author of two books, including The Secret Science Behind Movie Stunts & Special Effects.  He and his team travel to schools internationally, getting kids excited about science, and teaching teachers how to make learning more fun for their students.  A father of three boys, Steve lives in Austin, TX.
http://www.scienceinthemovies.com/